MidiCAR Cell / Tissue Culture Centrifuge
The Medium Sized Centrifuge for Acceleration Research (MidiCAR) is a dedicated centrifuge in which samples may be exposed to accelerations up to 100 times Earth's gravity.
The facility is accommodated in a temperature-controlled incubator and driven by dedicated software. Gravity levels may be chosen according specific user requirements, either static or dynamic. The system may be applied for short term (seconds) or long term (weeks) studies. Dedicated experiment vessels are compatible with standard laboratory tissue / cell culture hardware but also flight specific modules may be accommodated. Data and power lines are available on the rotating and static positions. Both rotating and static control samples are housed in the same environment.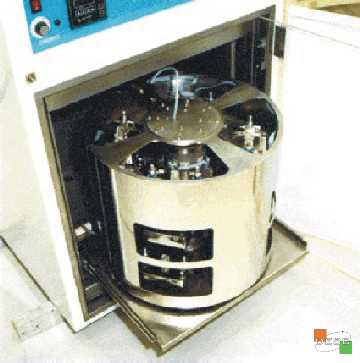 The MidiCAR centrifuge slide out of its incubator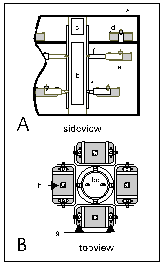 Schematic layout of the MidiCAR centrifuge.
A: Side view: a: incubator, b: motor, c: slip ring set, d: static control cultures, e: experiment vessels, f: two levels of rotor arms. B: Top view: bc: core structure and housing slipring and motor, g: valves for flushing culture vessels, h: water seal for reducing over-pressure in vessels.
For standard experiments it is preferred to use standard lab disposables as experiment container. When more sophisticated tasks need to be performed that cannot be adopted to standard lab plastics it is possible to use more flight like experiment containers such as LIDIAs or plunger boxes.
Future experiments on the MidiCAR could make use of developments that have taken place within the Technology Development Program at ESA/ESTEC. Various hardware items for gravitation biology, such as small microscopes, video cameras, cell / tissue / plant culture modules, insect modules etc., have been developed. These modules might be used on the Random Positioning Machine to investigate how biological systems will respond to simulated microgravity on the RPM or FFM).
MidiCAR Detailed Description
The radial acceleration of the experiments could be varied to values corresponding with g-levels between below 0.2 and 100 with accuracy better than one percent.
The centrifuge speed controller can be programmed using a PC computer via the RS232 serial port, thus allowing the generation of various acceleration profiles such as launch profiles or parabolic flight seuences.
The centrifuge and the static reference experiments are accommodated in an incubator (outer dimensions 830×690×1100 mm [w×d×h] allowing to control and vary the temperature from +5 to +50°C +/- 0.3 °C.
The experiments are housed in vessels that are hooked onto replaceable rotor arms. As the culture vessels can swing out, the resulting g-vector remains perpendicular to the surface of the culture compartments as much as possible.
The vessel body and lid are made of stainless steel. This facilitates the possibility of heat sterilization and possible radioactive contamination can be easily cleaned up.
There are a maximum of 8 standard experiment vessels positions on the rotor, while 4 vessels can be accommodated on the static platter.
Each experiment vessel can accommodate two standard laboratory tissue culture multiwell plates or two ESA Biorack Type-I/E containers.
Gas mixture above the cultures can be conditioned to a 5% CO2/air, 100% relative humidity atmosphere by using airtight culture vessels provided with valves for flushing. A water seal releases gas in case of over-pressure.
A 12-way slip ring assembly is used to provide an electrical interface with the experiments while the centrifuge is running to be used e.g. for sensor readout, motor commanding or a light source.
Rotor arms of various lengths are replaceable to vary the radius between 140 and 205 mm.
Multi g-level experiments can be carried out simultaneously using different length rotor arms.

All facilities mentioned are open to perform your individual, dedicated, experiments or for collaborative studies. When you are interested to perform a series of (pilot) studies using the MidiCAR centrifuge you are invited to contact us and discuss various possibilities. You may also directly send an experiment proposal either to DESC or respond to one of the international Announcements of Opportunities (AO) as are in general annually issued by the European Space Agency (ESA) or other space agencies. You may also apply via an unsolicited proposal to ESA via the 'fast track' ESA Ground Based Facilities Program (CORA: Continuously Open Research Announcements), or via the ' ESA OSIP Platform '. You may contact us when you need any support for this.
The MidiCAR centrifuge is developed by Dutch Space (former Fokker Space), Leiden, The Netherlands.

Reference:
van Loon J, van den Bergh L, Schelling R, Veldhuijzen J, Huijser R. Development of a centrifuge for acceleration research in cell and developmental biology. 44th International Astronautical Congress, IAF/IAA-93-G, 1993. Link
---